IACT works with a great variety of customers. This is why we have gained a broad spectrum of knowledge and experience. In hindsight, it can be said that we have gained specialist knowledge in 6 areas. Beside this, for all projects we see the beauty of a solution in a problem.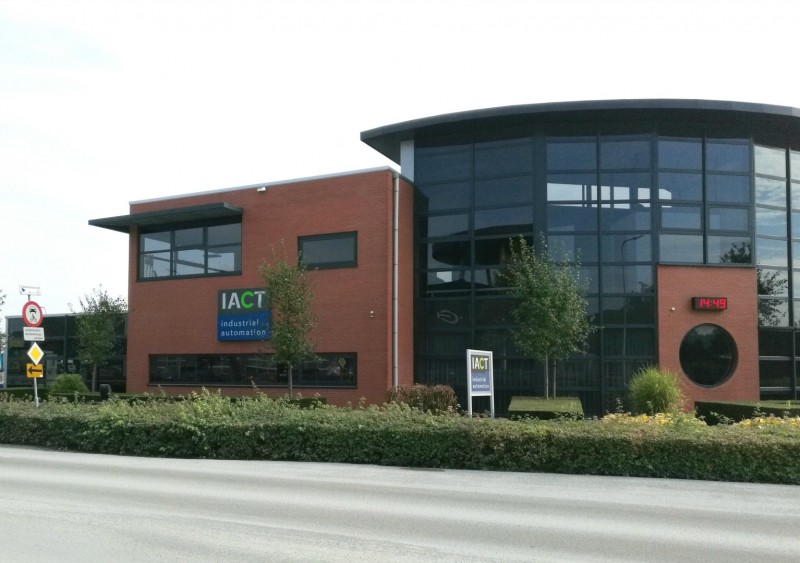 Cooling systems
Cooling systems are a trade of their own, IACT masters this profession like no other. This is evident from the more than 100 project we already have to our credit in this area. Our expertise reaches from large process cooling to store climate control. We guarantee high quality at a very competitive price.
Tooling and visualization
We can apply standard cooling solutions to different situations, but in many cases, customization is necessary. For this we have developed our own tooling and visualizations. Our software runs in many of Heineken's breweries. The beer brand has even asked us to develop a standard software for the breweries which can be used worldwide.
Knowledge about the industry
We have knowledge of the industry and we know what is being asked. This is what our customers expect of us when they come to us and we are happy to accept the challenge. They even ask us for advice, as we understand the process of the system very quickly. For this reason, we are able to think along very well.
A great example of this is the flower auction in Ede for which we work. A huge cooling system is running here. This system needs to cool very precisely. Besides this, the humidity needs to be regulated properly, otherwise the flowers will spoil. We have developed a software with which this can be regulated very accurately
"Thanks to the knowledge and experience of IACT, we know for sure that our cooling systems run as efficiently as possible. They always anticipate our wishes." – Plantion Ede.
Autoclaves and aerospace
We have had a good relationship with companies in the aerospace industry such as Fokker, Boeing and Airbus for years. They soon understood that IACT realizes special applications with a very high reliability, exactly what they need in their industry. After we had developed operating software to full satisfaction, the demand for our services from the aerospace industry increased. From wing welding machines to process development and smaller machines that control production, we are a prominent player in this industry.  
Global leader
An important part of the production in this branch has to do with autoclaves; fabricating composites for aircraft under high pressure and heated. We are very innovative in this regard, which makes us a global leader. This has even resulted in the in-house development of a completely new control package for autoclaves, ovens and for 'out of autoclave' application.
Data security and redundancy
We think along with project preparation, the recipe and the certification of the products. Our software precisely keeps track that the product meets all the set requirements. We provide optimal data security. Moreover, the software itself is also a triple redundant. This ensures that no valuable products will go to waste.
Autoclaven for other industries
As a result of IACT's experience with autoclaves for the aerospace industry, we can serve other industries with our expertise. This as we are already used to meet the highest standards. This knowledge is also useful in other industries where autoclaves are used.
"The reliability of our production has increased immensely due to the input from IACT. In the past 7 years we have not had any failures." – R. van der Zwan, Hoofd autoclaven, Fokker
Transport and sorting
In cooperation with manufacturers of hardware in the area of transporting and sorting we develop software for these systems. We have developed the necessary tooling for this ourselves, including for libraries in the Netherlands, Germany and Belgium. The customer of the library hands in the book via a sort of letterbox, this is where the process begins. The book is scanned via a built-in RFID, after which the book will be automatically transported in a bin to the correct bookcase and floor. When the cart is full, a library employee can return the books to the bookcase very efficiently.
Examples of our work in this area
RFID-based tracking and tracing can be done with the help of card systems, so that it is possible to see who has done what.
Through barcode scanners we have developed a system for ThyssenKrupp that automatically accepts, sorts and checks out packages.
Packaging systems and internal transport systems are also a speciality that we are experienced in.
In the area of order picking, we can ensure that the right products will be collected, prepared and are made ready for shipment.
Pallet systems, with which the pallet construction can be realized in 3D on a computer screen, which then is executed by a robot.
Specialist in exceptions
Initially projects concerning transporting and sorting seem fairly simple. That is because often the transports that go from A to B are considered. The exceptions are the ones that seize our attention. What happens if something goes wrong during the process? Is the system still able to understand it if a package is removed from the conveyor? These are the exceptions where we stand out. Our experience enables us to guarantee software of high standards at a competitive price.
"When we want to make sure that our internal transport systems work perfectly, we work together with IACT. They assure a good working system." – Erwin Voortman, FS Solutions
Energy management
No-break systems are becoming increasingly important, whether systems operate for hospitals or datacentres. The power can never be removed during these critical business processes. Control is the key. We ensure this with our monitoring solutions. All of these systems have energy monitors showing how much energy flows through and the voltages on it. These figures are logged into a database to keep a clear overview. In addition, it allows us to keep exact track of what happens when. In this way, energy consumption can be measured precisely and is it possible to manage savings in energy or redistribution and redundancy.
Tracing back causes with regard to the future 
Did a power breakout occur and had the generator to run suddenly? We can detect the cause and we will look for a solution to prevent this in the future. 
HACCP evidence
We have developed a replay system, which can rewind the events to detect what occurred in the engine room at the time of the power outage. Which pump was running, which valve was open, who was logged in and what where the consequences? When it comes to cooling technology, this type of evidence becomes increasingly important with a view on HACCP (Hazard Analysis and Critical Control Points). A lot is possible in the area of HACCP. With our software it is possible to give an insight into matters, from which all kinds of new possibilities arise.
"Thanks to IACT we now have a clear overview of how the power supply for our critical equipment works. That makes the hospital safer and it saves us energy" – Máxima Medisch Centrum
Safety systems
Safety control is of vital importance in the oil, gas and chemical industry. We develop software that controls this. We do this worldwide, on-shore and off-shore.
Passing every safety check
Due to the risk of explosion, it is extremely important in the oil, gas and chemical sector that all the systems are double or even triple protected against this risk. We ensure that the systems will pass all the safety checks. Our software checks whether all sensors and other parts of the systems are still safe. When this is not the case, the system will be stopped automatically.
Oil pipeline in United Arabic Emirates
We have worked in the UAE on 400 kilometres of oil pipeline, where we have also provided software for several hydrogen compressors. This hydrogen has been injected into crude oil, which is extremely flammable. The control of the speed and the capacity control must therefore be extremely safe. As soon as there are differences in temperature or in pressure, our software will raise the alarm. As the regulations of such pipeline are exceptionally accurate, we have worked for four years to develop this system from A to Z. Many tests have been run. Whenever there was a small change in a screw, the whole process started all over again.
 "During the process, it turned out that the experience IACT masters was of immeasurable value. They know exactly how we can optimally guarantee safety with their software." – ADCO Abu Dhabi
Prototyping and machines
From a new coffee machine for Douwe Egberts to milk frothers and steam overs: we develop and make prototypes of these machines to give our customers the opportunity to test them. The control system in this phase will be much larger than they eventually will become, but this allows our customer to test all parameters. A bit more power, pumping a bit harder: it can all be set with use of our prototypes.
Collaboration with Huygens Engineering and PCV Group
We work closely with Huygens Engineering. Huygens Engineering works for companies that have a really challenging industrial automation problem. This often involves software, which is our specialty. During the design phase we are already asked to think along. For example, we combine our knowledge of robotics and its integration into the total system.
Unique machines for Fokker R&D
For Fokker R&D we have developed a number of unique machines. Among these machines, a machine for heating the molds, making new aircraft parts and designing new material. We do not build the machine ourselves, but we are responsible for the entire concept. The machine then will be built on basis of our concept and our software can take care of the control.
"We like challenges and are happy to solve problems with our machines. But we can only do that thanks to good management, IACT takes care of that" – Jacques Vermeijden, Huygens Engineering